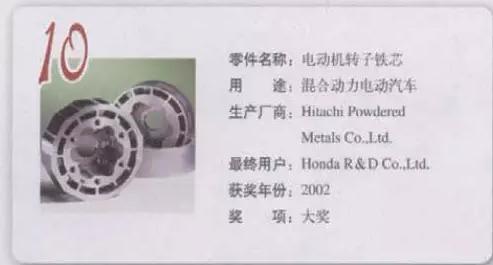 This rotor is made up of two parts by connected to diffusion assemblies formed by sintering, weight 3.3kg. External parts made of iron,the density is 7.0 g/c m3,Internal parts are made of iron – nickel – copper materials, density of 6.5 g/c m3. The final shape is cutting process. The rotor used for 2003 Honda city of hybrid electric vehicle integration engine power (I M A) powertrains. Hybrid electric vehicles have two drives,D C brushless motors and 1.3 L four-cylinder engine.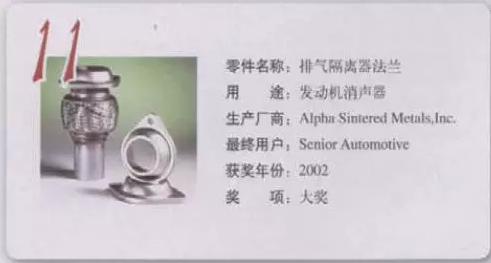 Stainless steel exhaust isolator flange, weight of 1.1 k g.As the exhaust flange of 4.7L and 5.4L engines, and these engines together for the Ford Expedition and Lincoln Navigator. Senior Automotive will weld flange  on a flexible joint.This kind of flexible joint is made by Tenneco Automotive for Ford MotorCo.,to .larger exhaust system. This part was made by 409L stainless steel powder, the density of 7.3 g/c m3, yield strength of 205 m P a, tensile strength of 383 m P a, elongation is 24%.The Parts do not need finishing or cutting, further processing is just deburring.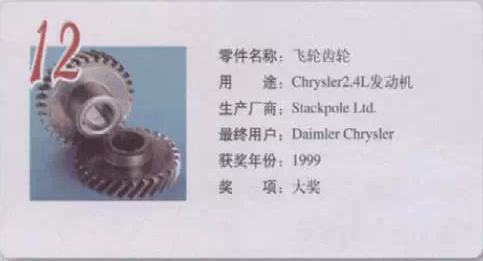 These two parts are complex shape, the helix angle of 36.25 ℃ powder metallurgy steel drive flywheel and the driven gear, for Chrysler 2.4L engine, under  the maximum speed of 13 000r / m in, the crankshaft speed doubling. Gear (AGMA 8/9) tooth root surface local density of 7.8g / c m3, did not stress near the heart of the tooth surface density is 7.0 G/c m3. The key to accurate tooth root surface of the carburized layer, the parts need to vacuum carburizing. Mechanical properties of the parts is not less than 862M P a, yield strength of not less than 827M P a.The two gear is made of malleable cast iron production before, but after using powder metallurgy production greatly reduces the production cost. Now the production of powder metallurgy gear has more than 200 pieces.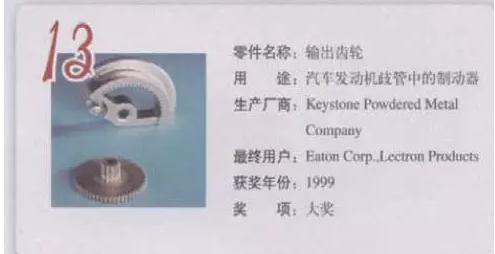 This gear is AWMA 7 level is an output gear, as an automobile engine manifold brake.This is a standard of M P I F material S S304 N1-30 stainless steel powder production, complex shape, conform to the requirements of the precision of tolerance;internal diameter of 4.80 ~ 4.85mm and with a line 15.44 ~ 15.31mm measurements. With 60 teeth on the gear, the density of not less than 6.4 g/m3. which is used to suppress multi-mesa forming press. Its ultimate tensile strength of 296M P a, the yield strength of not less than 207M P a, generally transverse rupture strength 772M P a, surface hardness 61H RB.This parts can be paired with the 304 stainless steel gear, now have producted more than 100 million pieces. This unit was originally manufactured with steel gear hobbing, after using powder metallurgy process greatly save the cost.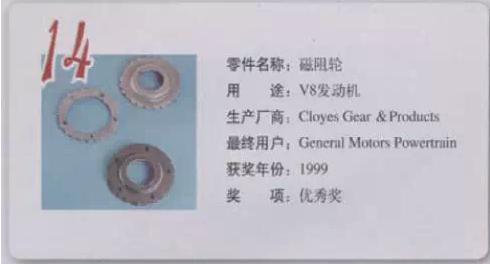 This is reluctance round of General Motors Mark V1 V8 engine.This reluctance wheel at the time of sintering brazed together by two pieces constituted. Need grinding separation tank, but also for polishing, shot peening. The necessary size is arranged between the two teeth of the hole is less than the maximum total eccentricity 0.129 5m m, the flatness of the hub assembly to be held to less than 0.078 7m m, minimum density teeth of 7.0g / c m3.In order to keep the total eccentricity components specification, when pressing the two parts, must strictly control the concentricity.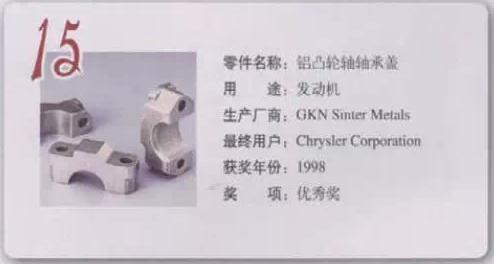 This part is used in the Chrysler 2.7L DOHC engine. In order to install the bearings in the cylinder head,  each engine uses four thrust bearing caps and 16 standard bearing cap. The minimum density of these bearing cap of 2.5g / c m3, yield strength of 184M P a, a tensile strength of 218M P a, hardness 55H RE. PM can save 35%.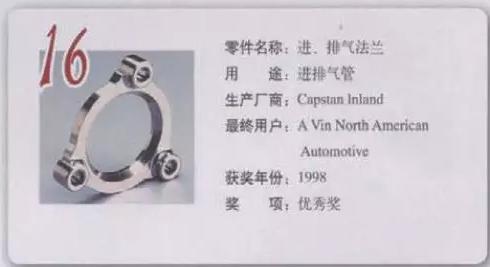 This exhaust pipe flange is fixed in the new Chevrolet Silverado. The density of the flange is 6.95g / cm3, ultimate tensile strength of 403M P a, a yield strength of 180M P a. In addition, the elongation of 23%, a hardness of 50H RB, impact strength of 115J and the transverse rupture strength 1000M P a. Powder metallurgy parts is nearly end shape, high precision, don't need any subsequent operations, can be significant cost savings.