The MIM technology as a new molding process, widely in the field of machinery, medical and electronic applications, also has more application in the field of automobile.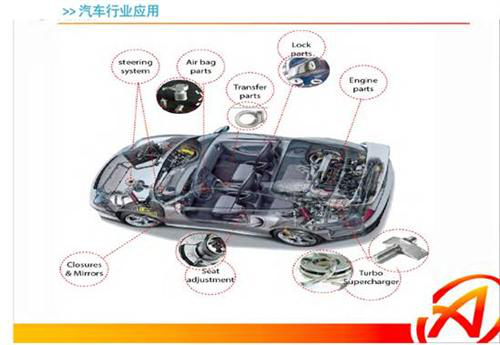 Such as: turbo parts, adjustable ring, nozzle parts, blades, seat adjustment, gear lever, gear box, lock, sensors, air bags, seat belts regulator, ignition switch, reverse gear, activity, car parts, steering parts, etc. These products have been in mass production.
China has become the world's third largest automobile producer.With the vigorous development of auto industry, auto parts market will also get rapid development.International of MIM products use in each car is 14 kg in Europe, Japan is 16 kilograms, the United States is 19.5 kg.And domestic automobile MIM products use only 5 kilograms.It also indicated that in the next few years China's automobile MIM parts products market potential is tremendous.MIM enterprises should seize the opportunity, improve the level of technology, to meet greater challenges.We are ready!